This post originally appeared on the Celebrating Financial Freedom blog at http://www.cfinancialfreedom.com
Everybody likes to find good deals online! You, the CFF readers, have even told me so in many of the surveys I've done. So I wanted to share this Ebates review with you today to help you save money on all your online purchases, plus get $10 free when you sign up with Ebates.com!
Ebates Pays You to Shop
Who doesn't want to get money back just for doing their regular online shopping?
In this post I'll show you:
How to save money on online purchases with Ebates.com
How to also get free cash back on every online purchase you make
Tips for using Ebates.com to get discounts plus cash back on your online purchases
In fact, in comparison to other cash back websites, I believe this is likely the best cash back website you can use!
Click Here to sign up for Ebates to get $10 cash welcome bonus when you spend $25 online
So What is Ebates.com?
The first thing most people ask is "what is Ebates and why should I use it?"
Ebates.com is an online company that partners with online retailers to give you cash back each time you make a purchase from one of their partners.
Here's what it says on their site:
"You get Cash Back at over 2,000 stores every time you start your shopping trip at Ebates. There are no points to redeem, no forms to mail in and no fees. Stores pay Ebates a commission for sending you their way, and Ebates shares the commission with you as Cash Back."
Ebates Gives You Free Money For Shopping Online
Every store negotiates a different deal with Ebates, so when you find the store you want to purchase from you'll see a percentage telling you how much cash back you'll receive in your Ebates.com account when you make a purchase.
Once you set up your account, all you have to do is log in to your account and choose the store where you want to shop.
You can earn cash back at over 2,000 different stores, so wherever you shop online, you'll likely be able to get cash back using Ebates to shop at that store!
I'm talking about household brand names like:
Amazon
Gap
Walmart
Kmart
Kohl's
JC Penney
Petco
Groupon
Ebay
Starbucks
Ulta
Macy's
Dick's Sporting Goods
Walgreens
Under Armour
Nike
Staples
Lowes
Orbitz
Loft
Travelocity
And thousands of others!
The cool thing about Ebates.com is that it rewards you with cash for doing the online shopping you're already doing! That includes grocery shopping, clothing, cosmetics, school supplies, office supplies- anything you normally buy online!
You'll earn a Big Fat Check that will be sent to you in the mail or via PayPal. You only have to earn $5.01 to get your first Big Fat Check!
Ebates is Free- No Fees, No Gotchas
Pretty much everybody shops online these days, so if you can get discounts and cash back for every online purchase you make, why wouldn't you do it?
Also, Ebates is completely free! There are no monthly fees or hidden gotchas. You don't have to enter any credit card numbers or other highly sensitive information.
What you see is what you get- automatic discounts and cash back for all your purchases!
Get Discounts Plus Cash Back
Another interesting feature that sets Ebates.com apart is that you can still use discounts, coupon codes, and promo codes when you shop at your favorite store through the Ebates cash back website.
In fact, when you go to Ebates to shop, you'll see featured items and sales that each retailer is offering that day.
You'll get a discount on your shopping, plus cash back on your purchase!
That's a double whammy that saves you a ton of money just by shopping through Ebates.com instead of going straight to the retailer's website!
How to Use Ebates to Get Cash Back on Your Online Shopping
The best way to use Ebates for your online shopping is to get into the habit of logging into your Ebates account first whenever you shop online. Here's what the home page looks like: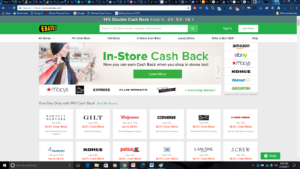 Once you log in, then proceed to the retailer you want to purchase from. If you don't see your favorite retailer listed on the home page, just use the search bar at the top to search for the retailer you want.
In this example, I clicked on the "Amazon" tab in the picture above, which took me to Ebates' Amazon page which lists Amazon's cash back categories: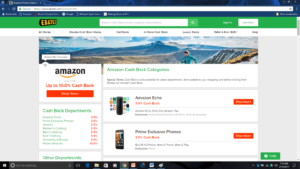 Then when you click the orange "shop now" button on the left, you'll see a page like the one below. This page shows how much cash back you'll receive on certain items or categories at Amazon.com: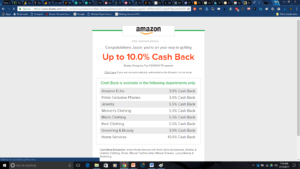 Then you'll be automatically directed to Amazon's official home page where you can shop as usual. Ebates.com keeps up with what you purchase and credits cash back to your Ebates account after you check out.
Ebates Adds Up to a Lot of Cash Back
You don't have to make any major changes in how you shop. Just go straight to Ebates.com and start your shopping from there- simple and easy!
Just think of all the money you spend at Walmart, Target, Amazon, and all those other online retailers you buy from all year long.
You will earn cash back for every single thing you purchase!
That adds up to a lot of cash over time!
Is Ebates a Scam?
Nope, Ebates is not a scam at all! It's actually a well-respected business that's been around since 1998 and has built a reputation as THE go to website for coupons and cash back on your online purchases.
So How Does Ebates Make Money?
Ebates.com makes money by being an affiliate for all of the stores it lists on its site. Here's how their business model works:
You log into your Ebates.com account and start shopping.
Each time you make a purchase, the store pays Ebates a small fee for sending you their way.
Ebates.com then shares part of that small fee with you in the form of cash back into your Ebates account!
The reason this works so well is because it's a classic win-win-win situation.
The store wins because they get more customers.
Ebates wins because they get paid for sending stores more customers.
You win because Ebates shares the money they make with you!
When everybody wins, that's the formula for a successful business model that makes everybody happy (and richer too)!
So whether you shop online occasionally or do all of your shopping online, signing up and using Ebates to shop is simply a no-brainer!
When you sign up for Ebates, you can earn cash back just for doing the online shopping you normally do! It's completely free to join- Plus when you sign up through my special link, you'll get a $10 cash welcome bonus when you spend your first $25 online!