Despite the fact that my house currently looks something like this: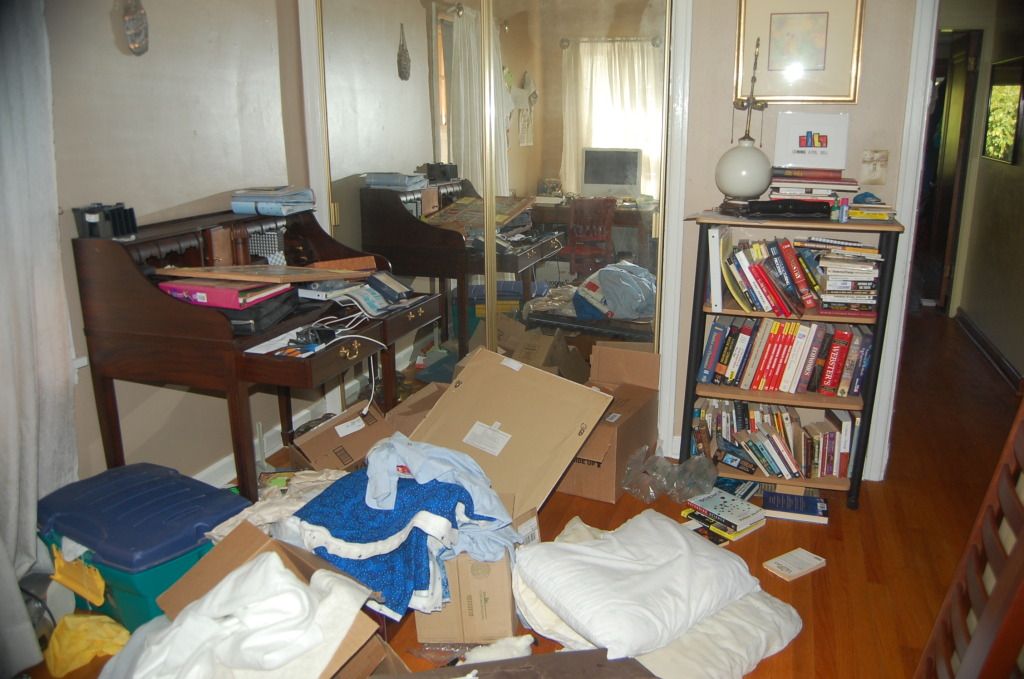 I am steadfast in my resolve to become more of a minimalist. At some point in my life, I would like to feel more like I own my stuff, rather than it owning me.
To that end, I've been researching some minimalist suggestions. (This is instead of running out to The Container Store to buy wonderful containment units for all of my stuff, which is my normal MO when it comes to organization/minimalism/simplification.)
Here's what I've found:
Don't bring anything into your home that you don't love.
Okay, this one sounds deceptively simple. But it's not simple. Because, sure, you're not going to go out and buy stuff that you feel meh about, but somehow, free things about which you feel meh have a way of worming into your home. Things about which you feel meh which are somehow connected to people about whom you are passionate may crawl into your home and settle there for several decades. (I'm looking at you metric ton of toddler artwork!) Meh things are given to you all the time, and unless you dispose of them before coming home, you are stuck with them--and then they spawn.
So, my new rule is that nothing passes the front door of my house unless I know it to be useful or believe it to be beautiful. End of story.
2 . One in, two out.
I've known for years that whenever you buy something/bring something new into your home, that you should get rid of something else in order to make room. Otherwise you will simply stuff your home with possessions until it is bursting at the seams. But one in, one out doesn't actually cut it sometimes. So challenge yourself to get rid of two things for every one item you bring into your home.
3. Finish one thing before you start another.
This one is a toughie in the Mensch household. J is a man of great enthusiasm, which means he gets very excited about new projects prior to completing old ones. (There is also some dispute over the correct definition of "finished." Certain individuals in our household maintain that the term simply means the completion of a project. Others feel that it must also encompass the cleaning up of tools for said project before it can be crossed off a to do list. I'll allow you to ruminate upon which of us holds each opinion).
Of course, it's not just J who struggles with this minimalism rule. I have a tendency to get sidetracked by one of the short people who live in our house who consistently request things like juice and naps and another reading of The Very Hungry Caterpillar. I also have a short attention...
Oooh, shiny!!
4. Do it now.
I'm a big believer in later. Later I will have energy. Later I will know how to responsibly dispose of the dead batteries that are sitting in my kitchen junk drawer. Later it will be easier to clean up the puddle of apple juice on the kitchen floor because I will not be clutching BB and consoling LO for spilling his apple juice.
But the fact of the matter is that I'm currently living in yesterday's later, and I'm no closer to simplifying than I was before. So, I might as well do it now. No time like the present.
I'm planning on implementing all four of these rules in the hopes that my house will soon look less like the above picture. My hopes are high and hopefully realistic. (I do live with an absentminded engineer, a pre-schooler, a nine-month-old who is working on his crawling skills and is at his most recreationally destructive, a greyhound, and two cats. So some of my home organization is simply out of my hands).
What rules do you follow to stay organized?